We are in a time that datacenters are experiencing massive data and network traffic growth everyday. To maintain this rapid growth businesses answered with cloud solutions for now. However, these solutions that makes cloud users happy are also the ones creating troubles for data centers. Cloud providers needs high availability, performance and scalability to be more competitive in the business while keeping the operational costs and complexity under the control.
A software-defined datacenter environment and scale-out architecture approaches helps IT groups meet these challenges. In the meantime storage vendors are building new products to provide better cloud interoperability. The key component at the scale-out storage architectures is the ethernet based new generation technologies that reaches up to 100 GbE connectivity.
In traditional SAN topologies communication between servers and storages are mostly operates over 8Gbps and 16Gbps ports. Companies that are in search of a SAN based storage solution, had to invest on relatively more costly SAN switches, FC HBA's and expensive cable connections. Growing and maintaining the investment also becomes a burden and operating FC is another problem. Moreover, licenses on ports and HBA cards are also increasing the cost.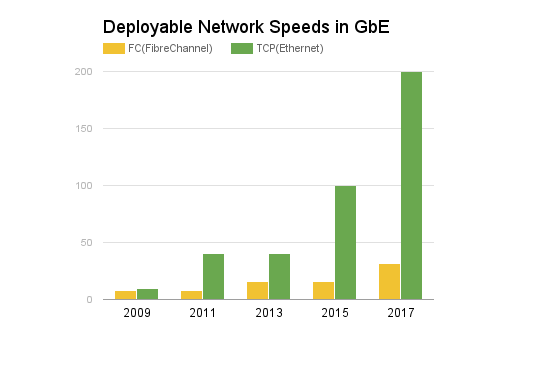 With Mellanox and NGX Storage, it is always simple and efficient to employ latest technologies to build next generation comprehensive and simple data center solutions. NGX Storage can provide 420 Gbit connection speed per controller with joint collaborations with Mellanox Technologies. Our All-Flash solutions are ready to be fundamental bricks of the next generation datacenters.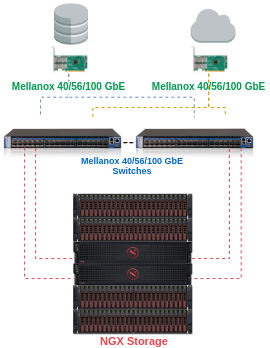 Last but not least, NGX Storage provides high performance unified solutions over FibreChannel, iSCSI,NFS and SMB protocols at the same time. By collaborating with us you can protect your existing infrastructure and investment to enable new technologies.